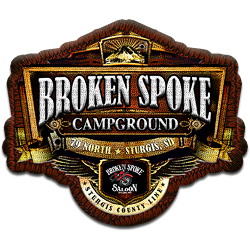 How to unlock: Login to BikerGeo with Facebook and then click the button to unlock this patch.
Login with Facebook
The Broken Spoke Campground Patch
Login To Unlock
Camp out? Or camp OUTSTANDING?
If you want to party hearty, but sleep softly, there's only one place to camp at Sturgis - the Broken Spoke Campground. With 600 grass-covered acres, you can be part of the crowd, without being part of the crowded. It's all here on 79 North. Shouldn't you be?