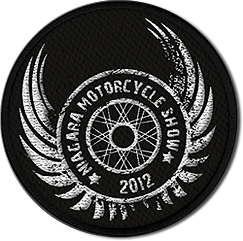 How to unlock: Login to BikerGeo with Facebook and then click the button to unlock this patch.
Login with Facebook
The Niagara Motorcycle Show 2012 Patch
Login To Unlock
Get ready for the biggest motorcycle event Niagara has ever seen. Join us July 20th through the 22nd, 2012, as we take over the brand new Scotiabank Convention Centre in Niagara Falls, Canada for the Niagara Motorcycle Show. We are going to showcase Niagara the way it was meant to be seen.
Join over 50,000 motorcycle enthusiasts and check out over 250 industry vendors. Outfit your bike or yourself. Take a demo ride, check out a stunt show, meet industry icons, and enjoy some live entertainment all weekend long.
Visit www.niagaramotorcycleshow.com for more information and also LIKE the Niagara Motorcycle Show on Facebook.