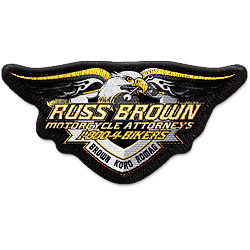 How to unlock: Login to BikerGeo with Facebook and then click the button to unlock this patch.
Login with Facebook
The Russ Brown BAM Patch
Login To Unlock
For FREE STICKERS from Russ Brown make sure you Google+ us below and then visit www.killabikergotojail.com.
Russ Brown Motorcycle Attorneys have been fighting for injured motorcyclists for over thirty years Nationwide. To show his commitment to motorcycle riders Russ created BAM, Free Breakdown and Legal Assistance for Motorcyclists. The Nations largest biker helping biker network and it's free. 1.5 million members who have all volunteered to help fellow riders on the road.