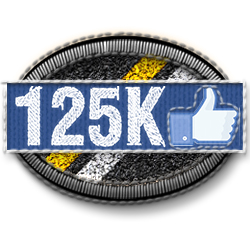 How to unlock: Login to BikerGeo and then click "unlock" to add this Virtual Patch to your collection.
Log In to BikerGeo
The BikerGeo Facebook Page has reached 125,000 LIKES! To commemorate this achievement we've made this 125k Virtual Patch available for a limited time only. This Virtual Patch will only be available until December 1st, so be sure to unlock it for your collection while you still can, and by all means, share the heck out of it with family and friends!
Please help to support (only if you can) the continued growth of BikerGeo by purchasing some patches from the BikerGeo Store. If you're looking to earn a Virtual Poker Chip, which can be used for your next promotion, be sure to grab the Official BikerGeo Patch! Once you've receieved the patch, be sure to snap a photo and post it to our Facebook Page, which will earn you a Virtual Poker Chip.
We'll also award 1 Virtual Poker Chip to 10 BikerGeo members on the evening of December 3, 2014 (randomly selected) who have visited our Facebook Page and has shared a post about the "125k Virtual Patch" to his or her own Facebook Wall.
Recent Questions
Share your favorite memories with Dad...

by

Howe do I change the towen I live in on my profile?

by

How do you spend Memorial Day and Honor Our Bravest?

by