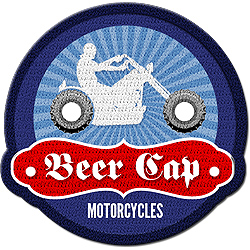 How to unlock: Login to BikerGeo and then click "unlock" to add this Virtual Patch to your collection.
Log In to BikerGeo
Unlock The Beer Cap Motorcycles Patch as it will make a great addition to your collection!
Beer Cap Motorcycles make great/affordable one-of-a-kind gifts. Be sure to check out Beer Cap Motorcycles on Facebook.
Be sure to grab a Support The Troops or Red, White & Blue Patch from the BikerGeo Store!
Recent Questions
Share your favorite memories with Dad...

by

Howe do I change the towen I live in on my profile?

by

How do you spend Memorial Day and Honor Our Bravest?

by