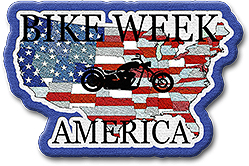 How to unlock: Login to BikerGeo and then click "unlock" to add this Virtual Patch to your collection.
Log In to BikerGeo
Bike Week America is excited and proud to be part of the BikerGeo Virtual Patch family and hope you'll stay tuned for more from us. We show the news about Bikers you WON'T see in the mainstream media - Our Good Side - every Tuesday 7pm Central Time www.BikeWeekAmerica.com
Our Mission is to bring entertainment-oriented news and safety techniques to all motorists and especially bikers, by delivering a high quality, action-filled TV program.
Bike Week America is hosted by actual motorcycle enthusiasts. Host Dan Nolan is a 40 year plus rider and Host Laurie Westberg Martin is a 30 year plus professional passenger. Both are trained instructors for Accident Scene Management Courses and have years of experience in group riding and event coordination.
Check us out at www.BikeWeekAmerica.com and on Facebook!
Recent Questions
Share your favorite memories with Dad...

by

Howe do I change the towen I live in on my profile?

by

How do you spend Memorial Day and Honor Our Bravest?

by