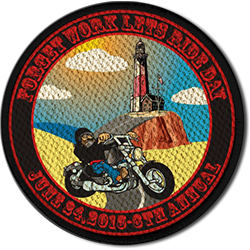 How to unlock: Login to BikerGeo and then click "unlock" to add this Virtual Patch to your collection.
Log In to BikerGeo
MISSION: To get everyone who Rides a Motorcycle to take the day off on the last Wednesday in June every year and go out riding with their Fellow Bikers WORLD WIDE! Be sure to share this Virtual Patch with everyone you know & LIKE the Forget Work Let's Ride Day Facebook Page.
Plot your route at BikerGeo once you've decided where you'll be riding on the last Wednesday in June.
Recent Questions
Share your favorite memories with Dad...

by

Howe do I change the towen I live in on my profile?

by

How do you spend Memorial Day and Honor Our Bravest?

by