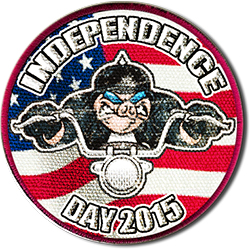 How to unlock: Login to BikerGeo and then click "unlock" to add this Virtual Patch to your collection.
Log In to BikerGeo
The Independence Day 2015 Patch is only available from July 4, 2015 until July 5, 2015.
"We must remember and honor our past. We are all children of great men and women who have loved, fought, bled and sacrificed for all of us. Let us honor the memory of our ancestors by doing what we can in our own lives to bring their wishes, dreams and hopes for us, their children, a reality.. Ride Free!"
Earn 100 Points for each Red, White & Blue Patch Purchased this 4th of July Weekend (July 4th - July 5th) (Max of 500 Points can be earned for this deal) - points should be added to your profile within 24 - 48 hours of your purchase! 5 Members who purchase at least 1 patch will be randomly selected and will win a Virtual Poker Chip! (winners notified next week) As always, for every 2 Patches purchased, you'll receive a FREE BikerGeo Decal!
Click here to learn more about Levels, Points and Promotions!
Recent Questions
Share your favorite memories with Dad...

by

Howe do I change the towen I live in on my profile?

by

How do you spend Memorial Day and Honor Our Bravest?

by