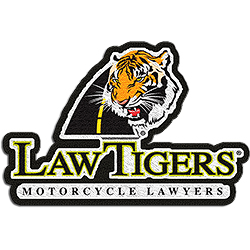 How to unlock: Login to BikerGeo and then click "unlock" to add this Virtual Patch to your collection.
Log In to BikerGeo
The Law Tigers are relentless advocates of injured motorcyclists across the United States. We are a national network of local motorcycle accident attorneys who are committed to protecting fellow motorcycle riders. As motorcyclists, we understand bikes, bikers, and motorcycle injury law. Our select group of motorcycle attorneys has helped thousands of injured riders and the family members of those killed in motorcycle accidents obtain the compensation to which they are entitled.
Be sure to "LIKE" us on Facebook as well as follow us on Twitter, Instagram and our blog!
Recent Questions
Share your favorite memories with Dad...

by

Howe do I change the towen I live in on my profile?

by

How do you spend Memorial Day and Honor Our Bravest?

by