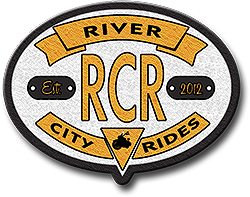 How to unlock: Login to BikerGeo and then click "unlock" to add this Virtual Patch to your collection.
Log In to BikerGeo
River City Rides is Winnipeg's Motorcycle Rental Store and we have a true love of Motorcycle Tourism. Our mission is to provide travelers and local customers an exciting and cost effective way to explore our great province. River City Rides is passionate about our local area, community, tourism and we encourage everyone to come and explore our great province on a motorcycle.
In addition to being a one-stop-shop for all your motorcycle tourism needs, River City Rides has a full retail store selling a variety of motorcycle-related clothing and gear with full line of products from a number of manufacturers. T-Shirts, Vests, Jackets, Boots, Helmets, Glasses, Armour, Gloves, Belt Buckles and so much more. You can shop online, or come on down to our store and shop in person.
Your local source for:• Joe Rocket • Speed & Strength • Scorpion • ZOX • Xelement • Rubber Side Down • Sons of Anarchy • Too Fast • Akumu Ink
Visit River City Rides in person by visiting their store at 1318 Portage Ave., Winnipeg, Manitoba R3G 0V2 or by checking them out from anywhere in the world by visiting www.rivercityrides.ca.
Shop online and SAVE 10% on your next order by using the coupon code BIKERGEO at the checkout.
Recent Questions
Share your favorite memories with Dad...

by

Howe do I change the towen I live in on my profile?

by

How do you spend Memorial Day and Honor Our Bravest?

by