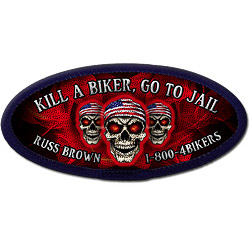 How to unlock: Login to BikerGeo and then click "unlock" to add this Virtual Patch to your collection.
Log In to BikerGeo
For FREE STICKERS from Russ Brown make sure you Google+ us below and then visit www.killabikergotojail.com.
Unlock the Russ Brown Kill a Biker Go To Jail Patch for your collection and be sure to get our free "kill a biker go to jail" sticker to remind cagers they share the road with us! Be sure to also "LIKE" our Facebook Page.