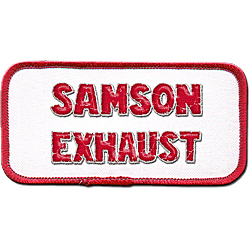 How to unlock: Login to BikerGeo and then click "unlock" to add this Virtual Patch to your collection.
Log In to BikerGeo
Samson is a world leading manufacturer of exhaust systems, mufflers and accessories for Harley-Davidson motorcycles and offers a vast selection of styles that produce maximum horsepower, torque and awesome sound! Samson always has and will continue to set a standard for the motorcycle industry... Our styles and designs are still copied world-wide. Even though most exhaust pipes may look the same, nothing compares to a Samson exhaust in quality, sound or performance. Kenny Price, CEO and Founder of Samson Exhaust states, "From the very beginning we set out to build the very best motorcycle exhaust systems. We designed every aspect of our company to do just that. And we have succeeded!"
Samson manufactures a complete line of exhaust systems with different looks and functions to choose from including the Legend Series... 2 pipes on one side, Fishtails and Longtails... now with removable fishtail mufflers, True Dual Crossover and Cross-under systems... perfect for the bagger market, dB Killer Systems which reduce the decibel level to only 84 dB's and the new horsepower pounding Powerflow III systems... a Two into One high performance system. Every exhaust manufactured by Samson is dyno tested before going into mass production for the ultimate in performance. Samson has over 745 different styles to choose from and we have all styles available for Harley's new 2012 model lineup.
Be sure to check us out on Facebook!
Recent Questions
Share your favorite memories with Dad...

by

Howe do I change the towen I live in on my profile?

by

How do you spend Memorial Day and Honor Our Bravest?

by