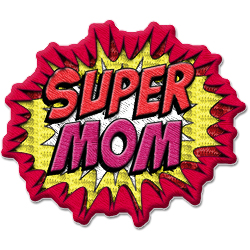 How to unlock: Login to BikerGeo with Facebook and then click the button to unlock this patch.
The Super Mom Patch
Login To Unlock
"We celebrate and honor our mothers (past, present and future) today and on all days. Our appreciation, praise and love for you is eternal. May we ride side by side, in this life and the next. We love and thank you!" - BikerGeo
Unlock the Super Mom Patch for your collection and share with family and friends! The Super Mom Patch is only available on Mother's Day and won't be made available again until May 10, 2015.
Recent Questions
Is it ok to wear a vest with patches not club related? OR is it like wearing a !%er vest?

by

A friend wants me to go.to Sturgis with him next year. I want to ride the trip out and back. He wants to trailer the bikes out. I feel the trip is about the ride but he feels we would have more time there if we trailer the bikes. Whats your...

by

What are the Pros and the Cons of using 0000 Steel Wool. I have heard lots say to use it and for some reason just can't seem to use it without weighing and cons if there are any. Anyone got experience using 0000 Steel...

by