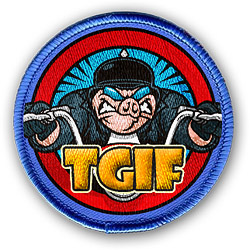 How to unlock: Login to BikerGeo with Facebook and then click the button to unlock this patch.
Login with Facebook
The TGIF Patch
Login To Unlock
The TGIF Patch is only available on Fridays!
Buy the Real TGIF Patch from our store and EARN 100 Points for each TGIF Patch purchased on Fridays! 300 POINT LIMIT per customer, for this patch/promotion across all Fridays.