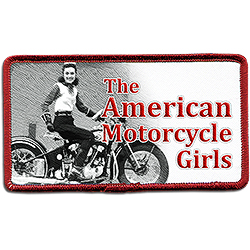 How to unlock: Login to BikerGeo and then click "unlock" to add this Virtual Patch to your collection.
Log In to BikerGeo
The American Motorcycle Girls: A Photographic History of Early Women Motorcyclists, written by Cris Sommer Simmons (Three time Motorcycle Hall of Fame inductee), chronicles the earliest women riders in the United States and covers the years from 1900-1950.
Purchase a copy or two for yourself, family and friends from Amazon.com, just in time for the Holidays!
As Willie Nelson put it on seeing the book:
"To whom it may concern - I have always thought that you could tell a lot about a person by the way he or she looks on a horse or a bike. There is a certain look of independence, pride and freedom. Fearless but respectful. Kinda like you, Cris."
To learn more about Cris, visit www.cannonballdiary.com
Recent Questions
Share your favorite memories with Dad...

by

Howe do I change the towen I live in on my profile?

by

How do you spend Memorial Day and Honor Our Bravest?

by