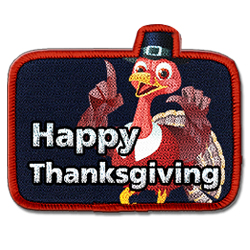 How to unlock: Login to BikerGeo and then click "unlock" to add this Virtual Patch to your collection.
Log In to BikerGeo
The Turkey Patch is only available on Thanksgiving and will not be made available again until November 24, 2016.
Looking for Stocking Stuffers? Our patches make great holiday gifts, and we always include a handful of free helmet stickers with each order as well as 1 Free BikerGeo Decal for every (and any) 2 patches purchase from our store!
Recent Questions
Share your favorite memories with Dad...

by

Howe do I change the towen I live in on my profile?

by

How do you spend Memorial Day and Honor Our Bravest?

by